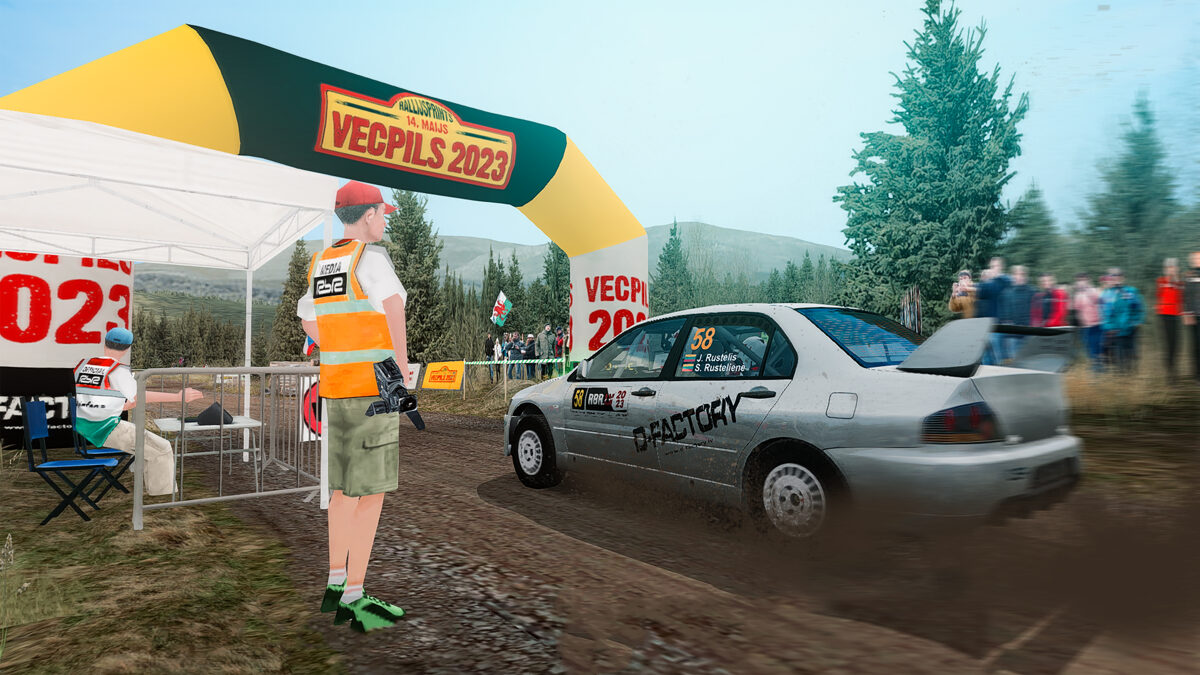 The dust of Vecpils have settled and its the time for usual review of RBR.LV Virtual Rally Cup, Rally Vecpils 2023!
Out of 77 competitors, 33 reached the finish line in all of the stages. First and third stages were more technical with a lot of rocks and trees hidden near the road, so it was vital to stay on the road, sadly for 16 competitors it was all over in the first stage alone. In contrary, second and fourth stages were rally fast, almost Finnish-like, just in Vecpils. Worth to mention that since this was a shorter rally than regular, according to supplementary regulations the competitors received a reduced amount of overall cup points. How did the race go? Read further!
LRC1 or R5/Rally2 car class was dominated by the new Hyundai i20 N rally cars, all with Latvian flags on the windows. Even tho in the first tests many drivers said that the car slides more than other cars, looks like finding the best setup was the key. Fastest this time - Gatis Gross, then Lauris Ermansons 6 seconds behind him and third - Einars Berze. Notable mentions - talented Latvian Ralfs Igavens and Estonian Gabriel Simson crashed out in respectively first and second stages which ended their hopes for overall points. Ralfs didn't stop there tho, because he returned on stage 3 by SupeRally rules and by setting overall fastest time, scored max points in the PowerStage (SS4).
LRC2 or production all-wheel drive (AWD) class. Needless to say, but Mitsubishi Lancer EVO is the best rally car in the world. Why? Because in this rally, first five places overall were set by EVO's and only after them were the aforementioned LRC1 class. The fight was on the whole rally in LRC2, and after the penultimate stage first 2 drivers - Atis Gromovs and Elmars Tikums were divided by only 0.11 seconds. In the last stage veteran driver Elmars proved that he is still fast and going for the cup early on in the season, winning the last stage by more than 7 seconds over Gromovs. Therefore the top 3 looks like this: P1 Elmars Tikums, P2 Atis Gromovs, P3 - a new driver in RBR.LV Community - Edmunds Grostins.
LRC3 or front-wheel drive (FWD) car class. There are some drivers that don't often compete with us, but when they do, they are worth looking out for. This time it's Ronalds Lukins. First time this season he's behind the wheel of Citroen Xsara rally kitcar and he is fast instantly. After winning two out of four stages in the rally, he racked up more than 20 seconds over the next competitor, even after a crash in the last stage. Luckily he was able to finish the stage to win the rally. Second after him - Kristians Jakovlevs, third - Kristaps Bakis, who also did some forest sightseeing in stage two, but was able to continue the rally. Of course, I need to mention the author of this review, Matiss Lukins, whose rally ended after only 6 kilometres in the first stage, but after returning by SupeRally rules, saving the tyres in SS3, got at least some powerstage points in SS4.
LRC4 or the most fun rear-wheel drive (RWD) car class. Here we could see only BMW's except for one Volvo driven by Madars Policans. In the front of the pack tho, big fight between Lihuanian driver Valdas Dziaugys and Latvian RWD veteran Viesturs priede. After the fist leg Valdas was 6 seconds ahead of Viesturs, who said that he's too careful and will try to push more. SS3 saw that he was sticking to his own plan and took the lead by 5 seconds over Valdas. Sadly in the last stage he possibly pushed too much and ended up spinning and getting stuck in the ditch for a significant time, handing the lead and win back to Valdas. Third, 2 minutes behind the leader - Valts Jansons.
Thank you for rallying, thanks to the fans and supporters. We still have five rallies to go, so anyone can win. Next up is Rally "Liepaja" with a double rally setup. Follow the newest info at RBR.LV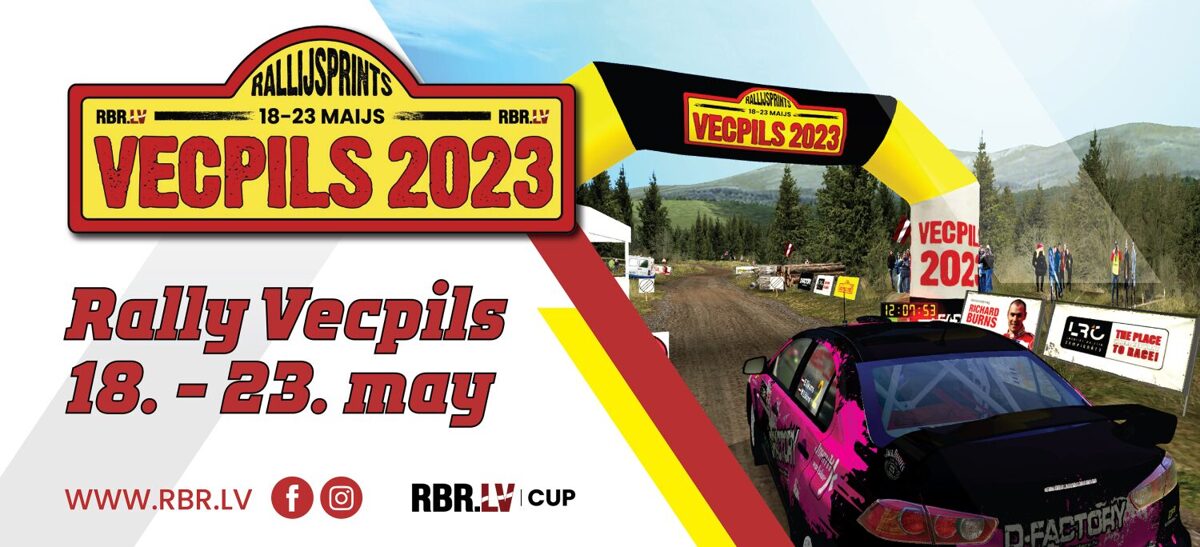 RBR.LV Virtual Rally Cup is back!
Winter has officially ended, we have dust clouds instead of snowbanks, studs are packed away in the sheds and gravel tyres are on. We are looking forward to hot conditions in Rally "Vecpils 2023" over four Special Stages. First and third stages will be very technical, where maintaining speed and precise apexes will be crucial, but stages two and four is going to be "pedal to the metal".
Get the cars ready and see you on the stages of Vecpils!
Event textures - https://site-884760.mozfiles.com/files/884760/Rally_Vecpils_2023.zip
Links to the event - https://www.rallysimfans.hu/rbr/rally_online.php?centerbox=rally_list_details.php&rally_id=56353
Password: RBRLV2023